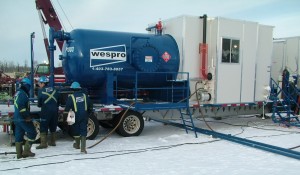 Thank you for visiting our well testing career page. We appreciate your interest in working for Wespro Production Testing Ltd. If you enjoy taking the lead and making the most of your skills and your career, Wespro could be an excellent opportunity for you.
We are currently accepting applications for the following career opportunities:
Well Test Operators
Well Test Forman
Well Test Supervisors
All candidates must have valid H2S, First Aid, driver's license and be able to pass a pre-employment screening as well as Petroleum Safety Training.
Please submit resume with references to: apply@wespro.ca or by fax to 403-783-8004.
Unfortunately, due to the volume of resumes, only those who are qualified will be contacted.